PTSD* : Reconsolidation Therapy ™ Heals Emotional Memory
PTSD* (post-traumatic stress disorder) affects 15% of people who have witnessed a traumatic event such as attacks, wars, accidents, aggression, or natural disasters.
The Brunet Method™ Effectively Treats Victims: Scientifically Proven
The Brunet Method ™ offers hope to millions of people around the world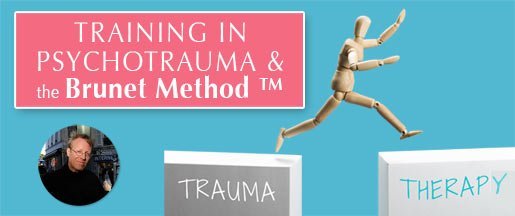 Based on recent discoveries in neuroscience regarding the functioning of memory, Reconsolidation Therapy ™ provides a simple, fast, and effective means to reduce the strength of emotional memories for victims who have experienced various degrees of trauma.
The Brunet Method™ was developed in Canada by Dr. Alain Brunet and his team. In just six psychotherapy sessions accompanied by a beta-blocker, the treatment gradually and sustainably reduces the emotional burden of a traumatic memory, without the use of antidepressants.
The treatment allows patients to reclaim control of their lives and could help millions of people around the world who suffer from post-traumatic stress.
Reputable press outlets from around the world have recognized the Brunet Method™ as an effective and innovative therapeutic method.
The Psychologist who Fixes Memories Following the Terrorist Attacks
Alain Brunet has become one of the leading specialists dedicated to the study of PTSD, for which he has developed an amazing treatment. The main concept is to combine psychotherapy with the reactivation of a traumatic memory using a beta-blocker. The beta-blocker is a drug that decreases the intensity of emotions associated with a memory.
The French media first discovered the Brunet Method™ in mid-April when the researcher from McGill University came to Paris to present his project, "Paris MEM". This study will test this method with hundreds of individuals suffering from PTSD, mainly due to the aftermath of the terrorist attacks of November 13, 2015.
Post-traumatic stress disorder: A cure?
Following the tragic terrorist attacks in Paris on November 13, 2015, many people – both directly and indirectly affected – have developed PTSD. Touched by this dramatic news, Alain Brunet, the director of research in psychotraumatology at McGill University (Montreal, Canada) offered his support to the Director of the Paris Hospital Network (AP-HP). Dr. Brunet's method offers an approach with many benefits.
The objective is twofold: to train staff with his method and to advance research (with the added possibility of evaluating this method on a larger scale). The doctors involved aim to include 400 patients in their study, with the hope of comparing Brunet's method with other forms of treatment.
The Brunet Method ™ transforms a traumatic memory into an ordinary bad memory
Alain Brunet's Reconsolidation Therapy™ does not aim to erase memories, like deleting a file from a hard drive. Rather, it alleviates the excessive emotions associated with a memory, allowing the patient to free themselves from their post-traumatic stress disorder.